Cotiviti Retail audits are laser-focused across business verticals to deliver results through deep domain experience, specialized competencies, and strong, consistent leadership. Specialty Retail covers a group of similar businesses that share best practices including home improvement (DIY), home office, sporting goods, pet supplies, health and wellness, and a variety of next-generation, omnichannel retailers. Our flexible approach, customized to meet each client's structured and unstructured data needs, is driven by metrics-driven management and a unified methodology across clients.
Delivering results from the primary audit position
Serving as the primary audit recovery firm for the two market leaders in home improvement, together approaching combined worldwide revenue of $180 billion in 2019, Cotiviti Specialty Retail works closely with its long-term clients on continuous improvement. Together, we are expanding audit scope into additional areas, traditional and non-traditional, and accelerating recovery efforts to provide value closer to the transaction. And as American consumers continue to increase year-over-year spend on home improvement products across a variety of departments, we'll continue to work with our clients to support custom, outside-of-the-box business initiatives.
Cotiviti is in the primary audit position for 90 percent of its clients in the Specialty Retail segment—a testament to our ability to deliver the highest degree of accuracy (claim quality), our strong continuous improvement process, and our collaboration with clients to accelerate claims. We've consistently recorded a 95 percent catch rate working with our largest home improvement clients in the primary audit position, well above industry average.
Correcting for data quality issues to drive audit success
Data quality often dictates the overall success of an audit. The Specialty Retail team focuses on improving data health by addressing missing, incorrect, and incomplete data. Improving data quality allows Cotiviti to fully integrate additional data elements into an audit, including unstructured emails. Several clients have adjusted email processing timing to deliver emails for internal audit on a monthly basis.
Leveraging email to increase overall claims and improve claim accuracy
The overwhelming majority (83 percent) of our clients rely on email to negotiate deals with suppliers, many of which rely upon rapid decisions not captured by systems of record. As evidenced by the metrics below, email data review improves quality and the overall value of each audit.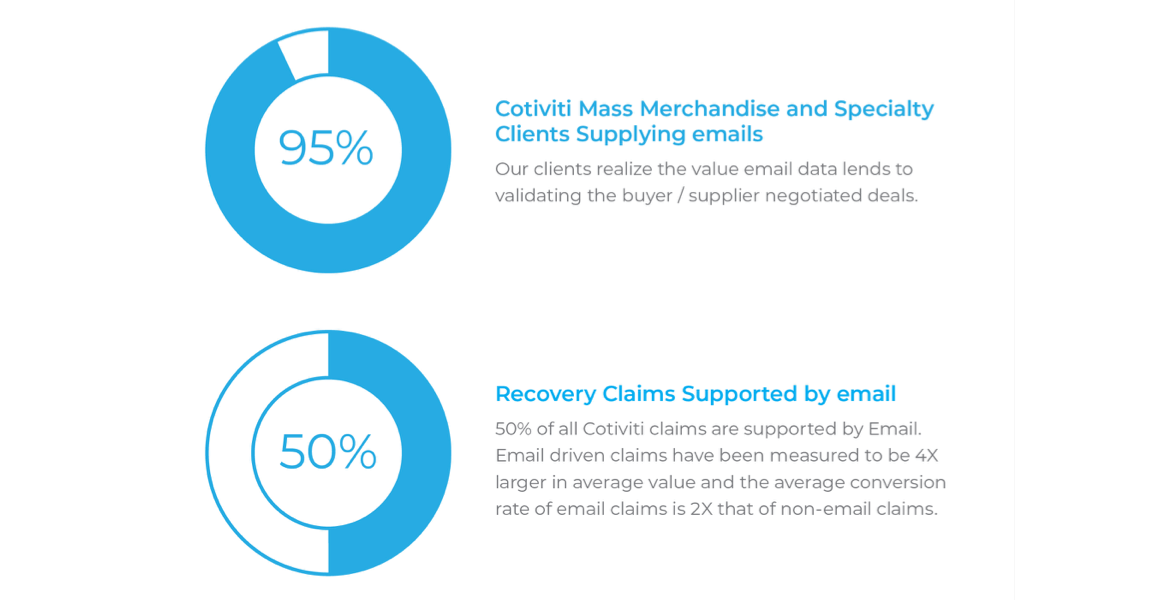 Cotiviti recovered $550 million for its clients in 2018, approximately half of which was positively impacted by supplier emails. Our analysis shows that email-driven claims are four times larger in average value, and the average conversion rate of email claims is two times larger than that of non-email claims.